From Round-tables to Results: The Higher-Ed NEDSummit Experience
Featured Image
Image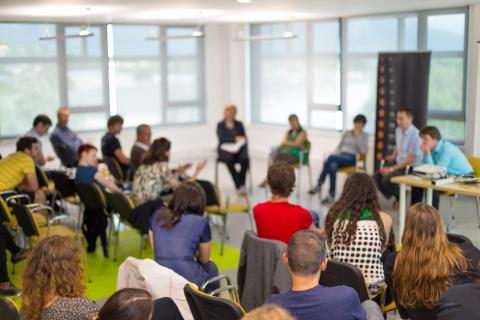 We are less then two-weeks away from NEDCamp and the first ever NEDSummit, a full-day event dedicated to sharing knowledge, exchanging ideas, and networking. This year's summit topic is Drupal & higher-Ed and it's an event designed to strengthen the Drupal higher-ed community through shared knowledge, experiences, and strategies.
Overview of the day
The summit kicks off with opening remarks that lay the groundwork for a transformative day. Our keynote speaker, Penny Kronz will share strategies for web governance must-have for Higher-Ed Drupal sites
Following the keynote, attendees will engage in guided round-table discussions. Breaking into small groups, attendees will be prompted with curated topics and questions that focus on subjects that matter most to us —from web governance to the intricacies of team collaboration and the nuances of design systems. 
Networking is at the heart of NEDSummit, and attendees will find plenty of opportunities to connect during our coffee breaks, communal lunch and snack break. It's a chance to mingle with peers, meet new collaborators, and exchange ideas.
In the afternoon, summit attendees will have the chance to present 5 to 10 minute lightning talks. This will be a chance to share recent successes, discoveries, and rapid-fire insights.
The afternoon's open round-tables invite attendees to voice challenges and brainstorm solutions, ensuring every perspective shapes our collective wisdom.  It's a collective brainstorming session where every voice is heard and every idea is valued.
Your Participation Matters
If you work in Higher-Ed and with Drupal then your expertise is invaluable. By joining us, you're not just enhancing your own toolkit; you're actively contributing to the evolution of Drupal in our educational institutions. Forge lasting connections that transcend the summit, creating a robust network that spans New England's campuses.